Welcome to Green Island Tours Tasmania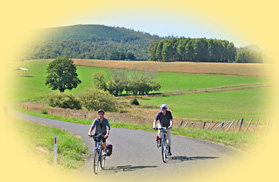 We are the first-established Tasmanian bicycletour-operator
and still deliver personal attention and excellent value for money!
Our tours are suitable for all adults with a bit of cycling-experience and are more of the touring style, not racing.


We offer tours for different fitness levels , all in various accommodation categories.


And we will give you plenty of options!



Tours we offer


- Escorted group tours with our unique custom build trailer, even when there are just 2 of you.


- Self-guided tours with your partner / friends and our detailed route-description.


- Customized tours for you or your big group.


---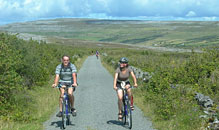 NEW DESTINATION

Shortly we will also offer biketours in IRELAND. Watch this space!


---
DISCOUNTS

If you book more than 4 months before departure you will receive 3 % early bird discount for advertised tours.
Independently you´ll receive a 3 % repeater discount when you have done a tour with us before.


If you have 4 or more full paying participants on the same self-guided tour on the same invoice we award this with a 10 % group discount


.
---
JANUARY 2015

If you are planing to cycle along Tasmania´s East coast during the first two weeks in Januray 2015 please keep in mind, that apart from beeing the peak holiday season, the Oceania Orienteering championchips is beeing held in this period with over 1,200 participants. You have to book VERY early to enable us to find accommodation for you.


The West coast is NOT effected.


---




Our business is independently quality approved.


our cycling tours:

general tour info

Supported Group tours

Self-guided tours

Customised tours

prices & i iineraries group tours:

Rapid East coast

Northeast / East coast

East coast

West coast

prices & itineraries self guided tours:

Rapid East coast

East coast

Northeast

West coast

Regional info

Tasmania

About us

Us about us

Testimonials

Terms & Conditions

Disclaimer