Supported Group tours
This is the right tour for groups or couples who prefer the safety of a support vehicle and a tour guide and /or the company of other guests.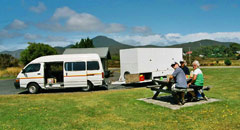 This type of bicycle-tour can be enjoyed by guests of all ages and fitness levels. Our Support vehicle and our purpose-built, quick loading trailer are always close by and can be used anytime. That makes it possible to have different finess levels within one group. Whoever wants to cycle energetic can do this while others take it easy.


Please note: our supported tours do not have curtain departure dates. We depart whenever you want and go where ever you want us to go. The price per person depends on the number of participants. We can conduct the tour exclusive for your group or can try to get other participants on board to lower the price per person.



What we do

* We do include bike- and luggage transport, national park fees and other admissions, and accommodation during the tour and also for the arrival- and the destination town.


* We will pick you up from the local airport or local hotel (time limits may apply).


* We provide accommodation, breakfasts, picnic styles lunches and ALL drinks from the support vehicle on the riding days.


* Our guide will look after you all day, and will make suggestions for excursions, prepares lunch, loads your bike and answers any question you may have.


* We will take you to places you will properly not see on a selfguided tour!

* We can supply quality, well-maintained rental bikes for an additional charge.



Fitness level required

No specific fitness level is required. Wherever or whenever you don't want to cycle anymore you can swap over to our support vehicle. You can continue cycling anytime thanks to our fast loading / unloading trailer.
However, if you want to cycle most of the route, a reasonable level of fitness is recommended. If you are very fit and want to cycle more, you may also cycle those parts where other guests use our support vehicle.



| | | |
| --- | --- | --- |
| | | |