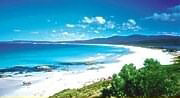 The East coast is the 'classic' tourist route, more or less flat with many lovely, empty, white beaches and a mild, dry and sunny climate.
Experienced cyclists will find it easygoing, but if you have never done a long tour before, you may find some sections harder than expected if unpleasant weather occurs.


The 8 day tour tour starts with an arrival day in Hobart. While this can be any day of your choice, we recommend a Friday. That will enable you to visit the famous Salamanca outdoor market next morning. In addition you will met less trucks en route to Orford. In any case you have enough time for a short stroll through the city before you begin to cycle to Richmond. You will arrive early allowing time to explore this historic small town.


Our guests from the 5 day tour join here the next morning. The next destination is Orford on the east coast after cycling over some hills. We recommend an additional night here to visit Maria Island.
You will continue to Swansea along the coast with beautiful sea views, then cycle on to the tourist town of Bicheno. The next day can be spent in famous Freycinet National Park for a walk to Wineglass Bay, voted one of the best beaches in the world! (8 day tour only).


From Bicheno its a pleasant ride to the east coast capital of St Helens (pop. 4,500). En route you may visit the Natureworld wildlife park where with a bit of luck you can pet a Tasmanian devil. You can end the trip in St.Helens and take the bus to Launceston or Hobart the next morning at 8.30 am (weekdays only). If you continue on our Northeast tour, you can spend the following day exploring the stunning surrounding coast, including the famous Bay of Fires.


Duration: 8 days
Starting-point: Hobart
End-point: St.Helens




Duration: 6 days
Starting-point: Richmond (close to Hobart airport)
End-point: St. Helens





This section takes you inland across the beautiful north-east; an astonishing contrast of rolling, green hills with temperate rainforest and many places worth visiting.
Some long ascents need to be managed. As compensation, most daily distances are short. This will present no real problem if you have already done our east coast tour.


The tour starts from St. Helens on the north-east coast with an arrival day. If you have just finished the East coast tour, you will have a rest day to explore the stunning surrounding coast, including the famous Bay of Fires or Peron Sand Dunes.


The first cycling day is fairly short; to a country pub in the farming community of Pyengana. You can visit the 90m high, St. Columba falls which you can reach after a short but beautifull walk through temperate rainforest. The following day is quite tough; you will need to climb 500m in one go. You will stay in the busy market town of Scottsdale. En route, you should not miss the wood carvings at Legerwood. On the last cycling day you will have to ascend the steep and winding "Sideling", however, going down the other side, through dense forest, is pure pleasure. Your destination is the quiet, historic village of Evandale, just 3km (2m) from Launceston airport.


Duration: 5 days
Starting-point: St. Helens
End-point: Launceston
Distance: minimum 186 km (112 m)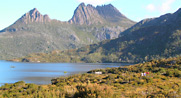 "Lonely planet" has classified the Westcoast as the second best cycling-region in the world! The route will take you through very dramatic scenery, lots of it in World Heritage listed areas and alpine regions. Everything is different here: More hills, more rain, a much smaller population density and longer distances between settlements.
The terrain is mostly hilly with some long ascents, it can be isolated in places and some daily routes are quite long. There is a good chance of bad weather, especially rain.


This trip starts with an arrival day in historic and quiet Evandale (close to Launceston airport). If you have just finished the north-east tour then you have a rest day to explore the nearby city of Launceston.


The first day's cycling is long, but mostly flat. You will stay in the laid-back village of Mole Creek. The next day takes you up into high country where you stay in a remote and lovely location. Next day youŽll arrive at famous Cradle Mountain National Park at around lunchtime, where you can walk around romantic Dove Lake or other walks. From now on it goes more downhill than uphill.


After a stop-over in the old mining town of Roseberry, you will head to the 'tourist-magnet' of Strahan for 2 nights. There you will have the opportunity to take a half-day cruise into the spectacular wilderness of the Gordon River: one of the worlds last remaining pristine rivers. The following section through dense forest to Queenstown (which looks like a lunar landscape) is short but features 273 bends.


The section to Derwent Bridge (just 3 houses!) is quite tough but offers some extremely nice walks. After you have visited nearby Lake St.Clair National Park the next morning, you continue on the "Wild way" to the little town of Ouse. For the last day, on the way to New Norfolk you can visit Mount Field National Park with its famous Russel Falls and many significant tall trees. Next day you cycle to nearby Hobart and have some time to enjoy TasmaniaŽs capital.


Duration: 13 days
Starting-point: Launceston
End-point: Hobart
Distance : minimum 615 km (372m)