Our support vehicle

Our minibus is not the latest modell, but it has proven to be very reliable and -extremely important- it is registered and fully insured for passenger transport. We have all required permits to operate it. Some other operators do use "hire vehicles", that means you may NOT be insured!


We spend several thousand $ for the installation of a Diesel-Gas System, which reduces the fuel consumption by 30 % gives the vehicle more pulling power (needed for the big trailer) and greatly reduces the "black smoke".


Our (bike) trailer

For the transport of luggage, equipment and bikes we have our own purpose-built, enclosed trailer. It's unique design enables quick loading and unloading of individual bikes without disturbing the others. Of course all doors are lockable. It also keeps supplies and luggage cool. Our guests are absolutely delighted with it!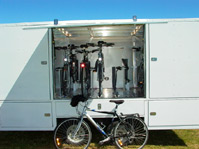 At times when we are heading off on excursions, the trailer can be unhooked and temporarily left at the roadside.