General info about Tasmania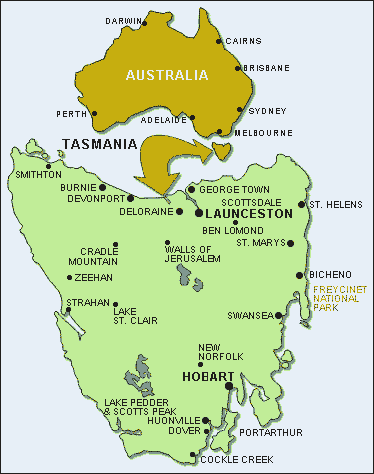 TASMANIA is a state of Australia and lies 240km south of the mainland. It's as big as Ireland with only 1/10 of the population. It is the holiday destination of your dreams. The unique experience has to be seen to be believed. It has everything you could want: vast places of natural beauty, untamed wilderness, lively modern cities and areas of great historic interest. All this in a mild, temperate climate and with a local population of the friendliest people you could hope to meet. It is simply an ideal place for cycling and related activities. There is little traffic on the beautiful country roads; the changeable landscape provides endlessly interesting scenery; the light is perfect for taking photos. Not to mention: empty beaches on 3,200 km of coastline, and the cleanest air in the world (in the northwest). There are 17 National Parks on the island and more than 20% of the total land area is listed as World Heritage! The Overland Track is situated here and is considered one of the top walking tracks in the world.


The main island rises from flat coastal areas up to 1000m on the central plateau. There are significant mountain ranges in the Northwest and several spectacular off-shore islands. In just one day's cycling you can pass through different vegetation zones and experience 'four seasons' of weather; it will literally 'blow you away'! When you don´t like the weather, just wait. It really is true that you can experience 'four seasons in one day'!


The travel guide "Lonely planet" has classified the West coast of Tasmania as the second best cycling route in the world!

Australia's best-selling travel magazine, Australian Traveller, has listed the East Coast on second place from Australia's 100 Greatest Holidays of all time in April 2014.




Plants and Animals

Not many of the animals and plants on the island could be considered dangerous. Commonly seen animals include; wallabies, wombats, echidnas, black swans, platypuses, possums and, of course, the famous Tasmanian Devil.


The Tasmanian countryside is so varied; there is everything from rainforest to coastal scrub, rolling green farmland, open eucalypt forest, pine plantations, subalpine mountain country and beautifully landscaped parks.




History
11,000 years ago, Tasmania was still part of mainland Australia and evidence remains of it´s original inhabitants, the Australian Aborigines. It was cut off from the mainland when sea levels rose. The indigenous population have become mostly urban dwellers now, but their heritage is proudly recalled and many still live in a more traditional way on some of the off-shore islands.
From 1803 to 1853 Tasmania was used by the British as a penal colony. The prison and other convict-built structures are still visible at the popular tourist attraction of Port Arthur, and throughout the state. Large quantities of high-quality timber were cut down during that same period and some species have never recovered.
Nowadays Tasmania is primarily dependent on farming and tourism. There has never been much heavy industry with public service, forestry and hydro-electric operations being the big employers. The island produces some of the world's best super-fine wool, exotic game meats, seafood, dairy produce and wine.


Climate
One of the very pleasant features of Tasmania is the distinct four seasons that occur here. Summer is much more pleasant than on the mainland; not so hot, very seldom humid, and it cools down during the night. The most stable weather is towards the end of summer. Autumn brings stunning light effects and because of European trees being planted in the cities, lovely, seasonal colour changes can be observed. Winter invariably brings snow cover to the mountain tops and a lovely stillness. The air is fresh and the water clean.
The main summer months of January and February have temperatures around 24ºC (75ºF) nevertheless, the sun is VERY intense. You need good protection; hat, sunglasses, sunscreen, etc.


Best time to travel
| | |
| --- | --- |
| | The 'high season' in Tasmania is late December, January and early February; its also the warmest time of year. Avoid the days around new years eve in Hobart and the first two weeks in January on the east coast. The most stable weather usually occurs in late February and March. You will also find the best light for photography in March. As far as cycling is concerned spring and autumn can be lovely and less crowded, but the days can be a bit chilly, especially at night. |
How to get here
| | |
| --- | --- |
| | One of the reasons Tasmania still feels so unspoiled is because it is simply so far away from the rest of the world, but it is REALLY worth the effort! It's around 22 hours flying time from Europe; a bit less from the US. Most international airlines fly into Sydney or Melbourne (Australia), where you'll have to clear customs (usually fast and easy) and board a domestic flight to Launceston or Hobart. If you are booked on one of our group tours, we will greet you at the airport. Note: You may need a visa, see below. |
VISA requirements
| | |
| --- | --- |
| | Citizens from curtain countries must hold a current travel visa to be allowed to enter Australia. An electronic visa (called an eVisitors) is easy to get free of charge and valid for 3 months. You can get it at the Immigration office website. You will also find more information there. Note: Be honest in answering the questions and mind the restrictions. |
Pictures
If you want to see more pictures of beautiful Tasmania then view our web gallery. To go back to this website just close the browser window.


Some of the photos displayed are taken from Dan Fellow´s CD-Rom 2000 stunning photos of Tasmania.


Travel Guides
General travel guides about Australia often contain patchy or even wrong information about Tasmania. For accurate information we recommend "Lonely Planet Tasmania". Within Tasmania, many specific publications are widely and often free available.
If you prefer online research we can recommend the official site from Tourism Tasmania for areas of specific interest.
Additional information
If you are interested in bike tours in other parts of Australia you may find them on Ride Advisor

.

If you want to know more about worldwide bike tours and tips and stories around bikes in general, we recommend you visit bicycles.net.au

.