Our route description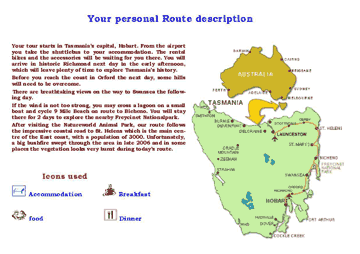 Its is our detailed and current route description what sets our self guided tours apart from others.


"I had never excepted so many informations, it is great!"
This is what our customers say.


Its approx. 35 A4 pages for a two weeks tour, printed by colour laser printer. Every day begins with an overview what to expect, how much energy you will properly need, where to stop for lunch and top up supplies, suggestions about alternative routes and side trips, and the best restaurants. The route is described from door to door, not only to the destination town. And of course it does include altitude charts.



You may download sample pages (the day from Swansea to Bicheno, pdf, 180 kb). To view them you have to have Acrobat Reader installed. To return to this site use the back buttons in your browser (usually in the left top corner).

NOTE: Our route descriptions are part of our selfguided tour packages and can not be purchased separately. If you are planning to do a bike tour by yourself in Tasmania, please keep in mind that certain areas are much more hilly, in reality, than it appears on maps; you can travel quite some distance without ever coming across shops; suitable accommodation is not always a certainty in all places. A pre-booked tour will free you from all these worries.