Self-guided bicycle tours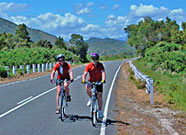 These tours are perfect for guests who prefer to ride in their own pace and leave all organising work to professionals.


We give you honest advice on every aspect of your tour before you book and do all the planning and hotel bookings for you.


You can book a tour as offered on this website or ask us to make changes or add-ons. Just let us know your special wishes, and we will make a suggestion how best to implement them into your tour. We only charge for the number of nights booked, not for any modifying work.


As part of your package we will create a very detailed and personalised route-description (road book) for you. It is exclusive to your tour and contains all hotel details, how to get you door to door, tips for excursions, tourist attractions, shops and restaurants and of course altitude charts.


Benefits


* We offer tours in different regions of the island and for different fitness levels. Each tour can be booked individually or combined with an adjoining tour.


* You can start ANY day of your choice.


* You can carry your luggage on your bike or book our daily luggage transport (not available on our West Coast tour).


* We can arrange to have your excess luggage transferred straight from your first to your last hotel (much cheaper than daily luggage transport).


* On request, we supply well-maintained rental bikes, covered by roadside assist from RACT (the Tasmanian automobilclub) plus accessories like helmets and panniers.


* You can choose between different accommodation categories.


* Our recommanded direction is anti-clockwise as the tour is building up better (it gets more lonesome and prettier towards the end). If you prefer you can of course tour the island clockwise.


How it works


* You select tour and accommodation category then contact us by email (preferred) or phone.


* We will discuss any special wishes you may have, work out any required modifications and send you a proposal with price.


* Once you are happy we will issue your confirmation / invoice. You pay only a 10% deposit (if departure is more than 4 weeks away) at this stage.


* We will book and pay for your accommodation and also organise other agreed arrangements.


* The balance owing on your tour needs to be paid one month before your tour. Once monies are received we send you a pdf copy of your personal route description incl. all hotel adresses. A printed copy will also be supplied for youz at your first hotel.


* The rental bike (if booked) will be waiting for you at your first hotel; later you just leave it at your last hotel. In some instances we can deliver the bikes when you are present and can adjust them to your specifications.


* We do operate a 24/7 helpline, which you can call if there is any problem, even on weekends and public holidays.


Fitness Levels


Depending on the route chosen, see tour description. Here is an overview:
East Coast: For any cyclists with a bit of touring-experience. Mostly almost flat with some climbs, mainly between Richmond and Orford.
North-East: For any cyclist who are moderately fit. This area is quite hilly (up and down).
West Coast: For experienced cyclists only! Some areas are quite isolated, distances are longer and there are many long steady climbs.
Please note: Of course it makes a difference if you carry your luggage on the bike, but much more relevant is the wind direction and strength, which cannot be predicted.



Bike Hire

You are most welcome to bring your own bike, although our insurance does require that it has to be checked by a professional prior to commencing the tour. It is easier if you hire one of our very well maintained bikes. We have different types available which are explained in detail here. On request, we can supply a helmet free of charge (wearing a helmet is compulsory). Each rental comes with a good pump, lock, an extensive repair kit (including a spare tube and instructions) and a lock for every 2 bikes.
Brake Downs: Thanks to our intensive servicing, bike problems are very rare and usually minor. Most of them can be rectified over the phone. To give our guests additional "peace of mind" our bikes are also covered by "RACT roadside assist". That means if the problem can not be fixed, and we can not come directly, you call the Tasmanian Automobil Club - they will provide help free of charge.







The East Coast is the 'classic' tourist route known for its mild, dry and sunny climate, with many lovely, empty, white beaches and almost flat roads.
Experienced cyclists will find it easygoing, but if you have never done a long tour before, you may find some sections harder than expected if unpleasant weather occurs.
Our 8 day tour tour starts with your arrival in Hobart (accommodation included). While your arrival be any day of your choice, if you select a Friday you can visit the famous Salamanca outdoor market next morning. In addition you will meet less trucks on the route to Orford later. In any case you have enough time for a short stroll through the city before you begin to cycle to Richmond. Guests of our Rapid East Coast Tour will go directly from Hobart Airport to Richmond and start their cycling from there.
The next destination is Orford on the east coast which is reached after crossing over some challenging hills. We recommend an additional night here so you ferry over to Maria Island and spent a day there.
You then continue on to the seaside town of Swansea, having breathtaking sea views along the way. Next day you cycle over the relatively harmless Cherry Tree Hill to the tourist town of Bicheno. You may choose to visit the famous Freycinet National Park the next day for the walk to the stunning Wineglass Bay lookout, voted one of the 10 best beaches in the world (8 day tour only).
Just 3 km outside Bicheno, you can visit the Natureworld Wildlife park where with a bit of luck you can pet a Tasmanian Devil. From Bicheno it is a pleasant ride to the east coast capital St Helens (pop. 4,500) with some of the best seaviews of this tour. This "Jewel of Tasmania's North-East" was voted "Tassie's Top Tourism Town" in 2020.
Next morning, you can take the morning bus at 8.30 am bus to either Launceston or Hobart (Mo-Sa). If you continue on our Northeast tour, you can spend the following day exploring the stunning surroundings of St. Helens, including the famous Bay of Fires or explore some of the newly build Mountain Bike trails.
Duration: 8 days
Starting-point: Hobart
End-point: St. Helens


Duration: 6 days
Starting-point: Richmond (close to Hobart airport)
End-point: St. Helens




This section takes you inland across the beautiful north-east; an astonishing contrast of rolling, green hills with temperate rainforest and many places worth visiting.
Some long ascents need to be managed. As compensation, most daily distances are short. This will present no real problem if you have already done our east coast tour.
The tour starts in St. Helens on the north-east coast with your arrival day (accomdation included. This "Jewel of Tasmania's North-East" was voted "Tassie's Top Tourism Town" in 2020. If you have just finished the East coast tour, you will have a rest day to explore the stunning surrounding coast, including the famous Bay of Fires or Peron Sand Dunes.
The first cycling day is fairly short; just 28 km to a country pub in the farming community of Pyengana. You can visit the 90m high St. Columba Falls which are reached after a short but spectacular walk through temperate rainforest. The following day is quite tough; you will need to climb 500m in one go. You should not miss the astonishing wood carvings at Legerwood. For the last 26 km you can use the "North East Trail", a converted railway line. The surface is a bit rough in places and is a tiny bit longer but the trail will save you many hills. Your stay is in the busy market town of Scottsdale. On the last cycling day you will ascend the steep and winding "Sideling". The reward for the climb is the view from the lookout. Going down the other side, through dense forest, is a pure pleasure. Your destination is the quiet, historic village of Evandale, just 4km (2m) from Launceston Airport.
Duration: 5 days
Starting-point: St. Helens
End-point: Evandale
Distance: minimum 186 km (112 m)




This route will take you through very dramatic scenery, much of it in World Heritage listed areas and alpine regions.
The terrain is mostly hilly with some long ascents, it can be isolated in places and some daily routes are quite long. There is a good chance of inclement weather, especially rain.


Everything is different here: More hills, more rain, a much smaller population density and longer distances between settlements.
This trip starts with your arrival day in historic and quiet Evandale (only 4 km from Launceston Airport, accommodation included). If you have just finished our North-East Tour then you have a rest day to explore the nearby city of Launceston.
The first day's cycling is long, but mostly flat. You will stay overnight in the laid-back village of Mole Creek. The following day takes you up into high country where you stay in a lovely but remote location. Next day youŽll head to the famous Cradle Mountain National Park where you should arrive at around lunchtime. On the afternoon you can walk around romantic Dove Lake or choose other walks.
From now on it goes more downhill than uphill. After a stop-over in the old mining town of Rosebery, you will head to the 'tourist-magnet' of Strahan for 2 nights. There you will have the opportunity to take a half-day cruise into the spectacular wilderness of the Gordon River: one of the worlds last remaining pristine rivers. The next tour section through dense forest to Queenstown (which looks like a lunar landscape) is short but features 273 bends.
The following section to Derwent Bridge (just 3 houses!) is quite tough but offers some extremely nice walks. After you have visited nearby Lake St. Clair National Park the next morning, you continue on the "Wild way" to the little town of Ouse. For your second last day, on the way to New Norfolk you can visit Mount Field National Park with its famous Russel Falls and many significant tall trees. Next day you cycle to nearby Hobart. You can use the afternoon to explore TasmaniaŽs capital.
Duration: 13 days
Starting-point: Launceston
End-point: Hobart
Distance : minimum 615 km (372m)



| | | | | | |
| --- | --- | --- | --- | --- | --- |
| | | G R E E NI S L A N DT O U R ST A S M A N I A2 Simeon Place, St. Helens, 7216 Tasmania, AustraliaPhone: +61 (0) 3 6376 3080E-mail: info@cycling-tasmania.com | | | |