Supported Group tours
This is ideal for groups from 2 to 11 who prefer the safety of a support vehicle and a tour guide.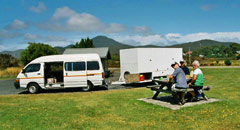 Our Support vehicle and our purpose-built, quick loading trailer are always close by and can be used anytime even fur just a short period. That makes it possible to have different fitness levels within one group. Whoever wants to cycle more or can do this while others take it easy.


Please note: our supported group tours do not have curtain departure dates. We depart whenever we are asked to do and go where ever our guests want us to go. The price per person depends on the number of participants - the more guests the lower the price per person. We can conduct the tour exclusive for your group or can try to get additional participants on board to lower the per-person price.


Benefits


* You can choose the departure date, the duration, where your tour shall take place and what the daily distances should be.


* You can choose between different accommodation categories.


* We do supply the support vehicle (registered and insured for client transport), an enclosed quick loading trailer and an experienced tour guide (driver)


* Different fitness levels within the group can be equalized.


* We include Bike- and luggage transport, national park fees and some other admissions .


* We also include picnic styles lunches, snacks and all drinks from the support vehicle on the riding days.


* Our guide will look after you all day and will make suggestions for excursions, answers any question you may have, prepares lunch, loads / unloads the bikes and does repairs on rental bikes should this be necessary.


* We will take you to places you may not see on a selfguided tour!


* The more participants we have the cheaper per person!


* We can supply well-maintained rental bikes; free helmets on request.


How it works


* You select a region and accommodation category and contact us by email (prefered) or phone.


* We will discuss the options with you, work out a customized itinerary and send you a proposal with price.


* Once you are happy we will issue your confirmation / invoice. You pay only a 10% deposit (if departure is more than 4 weeks away) at this stage.


* We will book and pay for your accommodation and also arrange other agreed arrangements.


* The balance has to be paid one month before tour begin. Once received we will send you a pdf copy of your road book incl. all hotel details. A printed copy will be supplied at the briefing on day 1 of the tour.


* You do not have to arrange anything on the tour as the guide will do that for you.



Fitness level required

No specific fitness level is required. THis k can be enjoyed by guests of all ages and fitness levels.Wherever or whenever you don't want to cycle anymore you can swap over to our support vehicle. You can continue cycling anytime thanks to our fast loading / unloading trailer.
However, if you want to cycle most of the route, a reasonable level of fitness is recommended. If you want to cycle more, you may also cycle some sections where other guests use our support vehicle.


Bike hire

You are most welcome to bring your own bike, although our insurance requires it has been checked by a professional prior to the tour. It is easier if you hire one of our very well maintained bikes. We have different types available which are explained in detail here. On request we do supply a helmet free of charge (wearing a helmet is compulsory). The tour guide is providing a repair service for the rental bikes.





| | | |
| --- | --- | --- |
| | | |