This is our SUPPORTED GROUP-TOUR along the breathtaking and sunny East coast of Tasmania.

You will cycle on more or less flat roads and will experience endless empty white beaches in a mild climate. You will also visit Freycinet national park and Port Arthur. Fitness level is not an issue because you can use our support vehicle whenever you like.


Prices, Terms & Itinerary
| | | |
| --- | --- | --- |
| | | |
| Departure- / Endpoint | St. Helens / Hobart | |
| | | |
| Duration | 7 days, 6 nights (can be shortened to 5 days) | |
| | | |
| Departure dates | On demand only - any day of your choice | |
| | | |
| bike hire (optional) | $ 140 | |
| | | |
| support vehicle, tour guide | included | |
| | | |
| Accommodation category | Price per person | Conditions |
| | | |
| Hostel /Budget category | $ 1,135 dorm / twin share | Displayed prices |
| | | |
| Economy category | $ 1,585 twin share | are valid if your group |
| | | |
| Comfort category | $ 2,065 twin share | has 6 participants. |
| | | |
| Executive category | $2,450 twin share | Details see below |
| | | |
| single supplement (one person per room) | 200* / $ 445 / 620 / 815 | |
| | | |
| | | |
| | | |
| (Hostel / Economy / Comfort / Executive category) | * =for locations without hostel | |
| | | |

ALL PRICES are displayed in AUSTRALIAN dollars (AUD)


On booking you agree to our Terms & Conditions






Currency Calculator
Accommodation categories -

Details here
Hostel: You share your bedroom with others, usually dorm, shared facilities.
Economy: Nothing fancy, but good value for money, mostly with shower/toilet.
Comfort: Comfortable feel-well properties, all rooms with shower/toilet (few exceptions) and good breakfast.
Executive: Usually the best available accommodation in the given area, some with spa.
Please note: your chosen category will be substituted when not available!


Itinerary
Above itinerary is just a suggestion. We can adjust it to your wishes and to match your flights.


Prices
Displayed prices are valid if the group, who booked the tour, has 6 participants. If there are more, the price per person will be lower, if there are fewer participants, the price per person will be higher. To increase the number of participants we can try to fill up with participants outside your group. The outside participants will never pay less than the displayed-6 person price.


What we include
> Road book containing all details of the tour


> 6 nights in double/twin bed rooms with breakfast, comfort level depending on booked category. Note: Some breakfasts are to be prepared by the participants.


> picnic style lunches, unlimited snacks and drinks (incl. alcoholic beverages) from tour bus until arrival.


> person, luggage and bicycle transport during the tour


> national park entry fees and other admission mentioned in the itinerary


> knowledgeable tour guide (driver), fully insured minibus (with air-conditioning) and purpose-built trailer


> minimum 2, maximum 12 guests.


> Extra: well serviced rental bike with helmet


What we do NOT include
Flights, airport transfers, evening meals and drinks, additional excursions and coffee stops, personal spending, trips not mentioned in the itinerary




Tour itinerary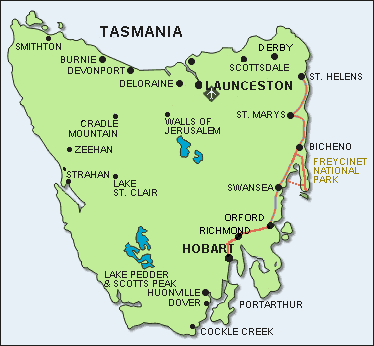 Day 1, Arrival
You need to make your own way to St. Helens. This "Jewel of Tasmania's North-East" won "Tassie's Top Tourism Town" competition in 2020. There are buses from Launceston transit centre: Mon-Fr at 1.30 pm (school days only), Mo-Sat 4.15 pm, Sunday at 7.10 pm. Cost is $ 31.50 p.p., duration 2 1/2 hours. Please allow at least 90 minutes from touchdown at Launceston airport to the bus departure.
When available we will pick you up from the bus station in St. Helens, bring you to your hotel and give you a short briefing. Depending on arrival time you may be able to explore the beautiful surroundings like the famous Bay of Fires or the Peron sand dunes.


Day 2, St. Helens - Bicheno
Today you will cycle down the beautiful and mostly flat East coast, passing spectacular beaches along the way. At first, we will drive you out of town using our support vehicle as the road is very narrow and there is a small hill to climb. At Scamander, we may be able to visit the Eureka Farm with its award-winning ice-cream. Shortly after that we will arrive at the coast road where you can enjoy the spectacular costal scenery. Later we will have our lunch at a reserve near the breath-taking "Lagoons beach". Just before our destination Bicheno you can visit the award-winning "Nature World Animal Park"

, where you can at 3.30 pm watch the feeding of Tasmanian devils and maybe even pet one. The entrance fee is included in the tour price! TOTAL 77 km (48 miles). On average our guests do cycle 60 km (37 miles) and use our support vehicle for the remaining 17 km (11 miles).


Day 3, Bicheno - Swansea
In the morning you will cycle the 39 mostly flat km by yourself to the popular Freycinet National Park, where you can walk to the lookout to the world-famous Wineglass Bay, rated as one of the 10 most beautiful beaches in the world (approx. 1˝ hours return). For many guests this is a highlight of the tour. The guide will have prepared lunch at a reserve in Coles Bay (4 hilly km from the park) which you can enjoy after your return.
After lunch, we will drive you out of the peninsula and then continues on the highway over the Cherry Tree hill to the destination town. Along the route you can visit the "Pondering Frog" where they serve yummy homemade ice cream and / or you have taste some fine wines at the "Devils corner winery". If you have energy left we can drop you off at the summit and you cycle the remaining 24 pleasant km to the destination hotel in Swansea. TOTAL 108 km (67 miles). On average our guests do cycle 60km (37 miles) and use our support vehicle for the remaining 48 km (30 miles).


Day 4, Swansea - Eaglehawk Neck (Tasman Peninsula)
The ride on this coast road is an absolute pleasure, not uncommon that guests are screaming for fun. After about 30 km the road turns away from the coast. We may do a short detour to Triabunna to see the cute harbour. Just after Orford we are having our lunch at the lovely Spring beach, where you can have a walk afterwards. Then we will pack up for a 2 hours long bus transfer. If time allows we can make a small detour to Richmond where we´ll give you some time to explore this lovely historic small town. TOTAL 169 km (106 miles). On average our guests do cycle 62km (39 miles) and use our support vehicle for the remaining 107 km (67 miles).


Day 5, day off
In the morning you have the choice of either visiting the historic penal settlement of Port Arthur

, now world heritage status, or to do a cruise

on a boat along one of Australia´s most beautiful coastlines (both extras). In the afternoon we offer a round tour by bus where you will see the impressive natural wonders like the Remarkable Cave, Tasman Arch, Devil's Kitchen and the Blowhole. You may also have a stroll on beautiful White Beach. Cycling: 0 km; Support vehicle 93 km (56 miles).


Day 6, Eaglehawk Neck - Hobart
At first, we will bring you up a big hill, then you can cycle out of this peninsula. From Dunally our route runs on a back road along the coast with beautiful views. It is very nice but contains some hilly sections and a short part, about 2 km, still has a gravel surface (usually in good condition). In Dodges Ferry you can have a last beach walk before we drive you to the nearby lunch point. There is no cycling after lunch anymore as we hit the main road. We will bring you straight into Hobart

via the famous Tasman Bridge. TOTAL 69 km (43 miles). On average our guests do cycle 38km (23 miles) and use our support vehicle for the remaining 31km (19miles).


Day 7, Departure or day off
We are happy to book additional night(s) for you in the same hotel. For those who are leaving us today we can on request book a taxi to the airport.

About 221 km per bike and 328 km per bus. All distances are approximate and may vary.


Please note: the displayed cycling distances are the average of all previous tours and do vary a lot from tour to tour, depending on your personal fitness level, wind direction and other weather conditions, chosen options on that day, and other variables.