This is our SUPPORTED GROUP-TOUR along the breathtaking and sunny East coast of Tasmania.

You will cycle on more or less flat roads and will experience endless empty white beaches in a mild climate. You will also visit Freycinet Nationalpark and Port Arthur. Fitness level is not an issue because you can use our support vehicle whenever you like.


Prices, Terms & Itinerary
| | | |
| --- | --- | --- |
| | | |
| Departure- / Endpoint | St. Helens / Hobart | |
| | | |
| Duration | 8 days, 7 nights | |
| | | |
| Departure date | March 7th, 2017 | |
| | | |
| bike hire (optional) | $ 110 | |
| | | |
| support vehicle, tour guide | included | |
| | | |
| Accommodation category | Price per person | |
| | | |
| Hostel /Budget category | $1,365 dorm / twin share | |
| | | |
| Economy category | $1,735 twin share | |
| | | |
| Comfort category | $2,160 twin share | |
| | | |
| Executive category | $2,570 twin share | |
| | | |
| single supplement (one person per room) | na / $ 290 / 490 / 650 | |
| | | |
| | | |
| | | |
| (Hostel / Economy / Comfort / Executive category) | | |
| | | |

ALL PRICES are displayed in AUSTRALIAN dollars (AUD)


On booking you agree to our Terms & Conditions






Currency Calculator
Accommodation categories
Hostel: You share your bedroom with others, usually dorm, shared facilities.
Economy: Nothing fancy, but good value for money, mostly with shower/toilet.
Comfort: Comfortable feel-well properties, all rooms with shower/toilet (few exceptions) and good breakfast.
Executive: Usually the best available accommodation in the given area, some with spa.
Please note: your chosen category will be substituted when not available!


What we include
> 7 nights accommodation, comfort level depending on category


> picnic style lunches, unlimited snacks and drinks (incl. alcoholic beverages) from tour bus until arrival. Note: Some breakfasts are to be prepared by the participants.


> all transfers, luggage and bicycle transport


> national park entry fees and other admission mentioned in the itinerary


> knowledgeable tour guide (driver), fully insured minibus (with air-conditioning) and purpose-built trailer


> Extra: well serviced rental bike with helmet


What we do NOT include
Flight, evening meals and drinks, additional excursions, trips not mentioned in the itinerary and personal spending




Tour itinerary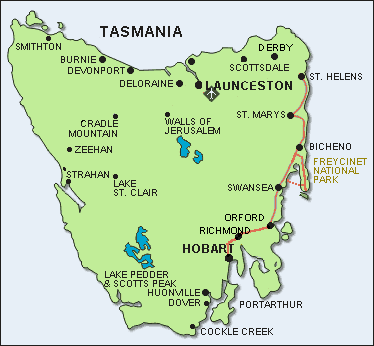 Day 1, Arrival
We will pick you up from Launceston city or Launceston airport betwenn 12 noon and 4 pm and bring you to the historic quite village of Evandale. After check in we´ll met for a briefing. Later we have dinner together (not included).


Day 2, Evandale - Scottsdale
You cycle through the outskirts of Launceston to meet up with the lonely and beautiful Tasman Highway, which winds it´s way up through picturesque, hilly countryside. After our lunch in the romantic Myrthle recreation ground there is a long but not so steep climb on a narrow windy road through dense rainforest. Some of our guests prefer to use our support vehicle. The reward for the climb is a breathtaking view from the "Sideling" lookout. After a steep descent and a last hilly section you finally arrive in the district town of Scottsdale. Cycling: 66 km + Bus 16 km


Day 3, Scottsdale - Pyengana
An adventure packed day: The first 19 hilly km are quite hilly, but you can use a 26 km railtrack instead. Our first destination are the Legerwood carvings, which were done by chainsaw, followed by a beautifull cycling through farmland. We can bypass Derby on a lovely back road and leave the Tasman Highway temporarely to get to our picnic spot in Pioneer. Later you will wind our way up on a narrow and winding road through dense forest to the settlement of Weldborough. It becomes steeper from there. Later we take a short stroll through a magic myrtle rainforest. The highlight of the day is a spectacular 10 km downhill ride!! A beer-drinking pig await´s us at the 'basic' accom-modation; the "Pub in the Paddock" in a spectacular location. Cycling: 54 km + Bus 19 km


Day 4, Pyengana - St. Helens
At first we undertake a bus excursions to the famous St. Columba Falls (Tasmania´s second highest), followed by cheese tasting in the local cheese factory. Back on the bike it´s more downhill than uphill to St Helens, the "capital of the east coast" (4,500 inhabitants). Cycling: 30 km, + Bus 18 km. On the afternoon you have plenty of time to visit the nearby Bay of Fires or to explore the town by yourself


Day 5, St. Helens - Bicheno:
We bring you out of town by bus as the road is very narrow. Later we can visit the Eureka Farm with its award winning icecream. The fit cyclists could prove themselfs while cycling up the St Marys andElephant Passes. But they would miss out on the spectacular costal scenery and breathtaking beaches along the mostly flat coastroad. Just before our destination Bicheno you can visit the award-winning "Nature World Animal Park", where you can at 3.30 pm watch the feeding of Tasmanian devils and maybe even pet one. Entrance fee is included in tour price! Cycling: 60 km + Bus 17 / 33 km


Day 6, Bicheno - Swansea
Most guests prefer to cycle the entire 37 km into Freycinet National Park, but you you can of course partly use our support vehicle. Within the park you can walk to the famous Wineglass Bay Lookout (the beach is rated as one of the 10 most beautiful beaches in the world). After lunch we have to go around the Moulting Lagoon over a hill. Several wineries are along the route and can be visited. You do not have to cycle the entire distance, we can drop you off at the summit! Cycling: 61 km, + Bus 47 km


Day 7, Swansea - Hobart
This section offers of the coast road offers the most spectacular ocean views of the entire tour and is rather flat except one short section. The ride is an absolute pleasure, not uncommon that guests are screaming for fun. After about 30 km the road turns away from the coast. We may do a short detour to Tribunna to see the cute harbour. Just after Orford we are having our lunch at the lovely Spring beach, where you can have a walk afterwards. Than we pack up for a 1 ¼ hours long bus transfer. If time allows we can make a small detour to Richmond where we´ll give you some time to explore this the historic small town Cycling: 62 km + Bus 69 km


Day 8, Departure
We will arrange airport transfer.

About 333 km per bike and 202 km per bus. All distances are approximate and may vary. The cycling distances depend on your personal level of fitness, weather conditions, chosen options on that day, and other variables.